Back
Published : 26/07/2017
Possessing a fabulous profile of academic achievements and extra activities along with her fluency in English and a broad perspective on social issues, Nguyen Dang Hoai Nhien - a 6th grader from Le Quy Don Secondary School, has become the owner of the 2017 VAS Talent Scholarship!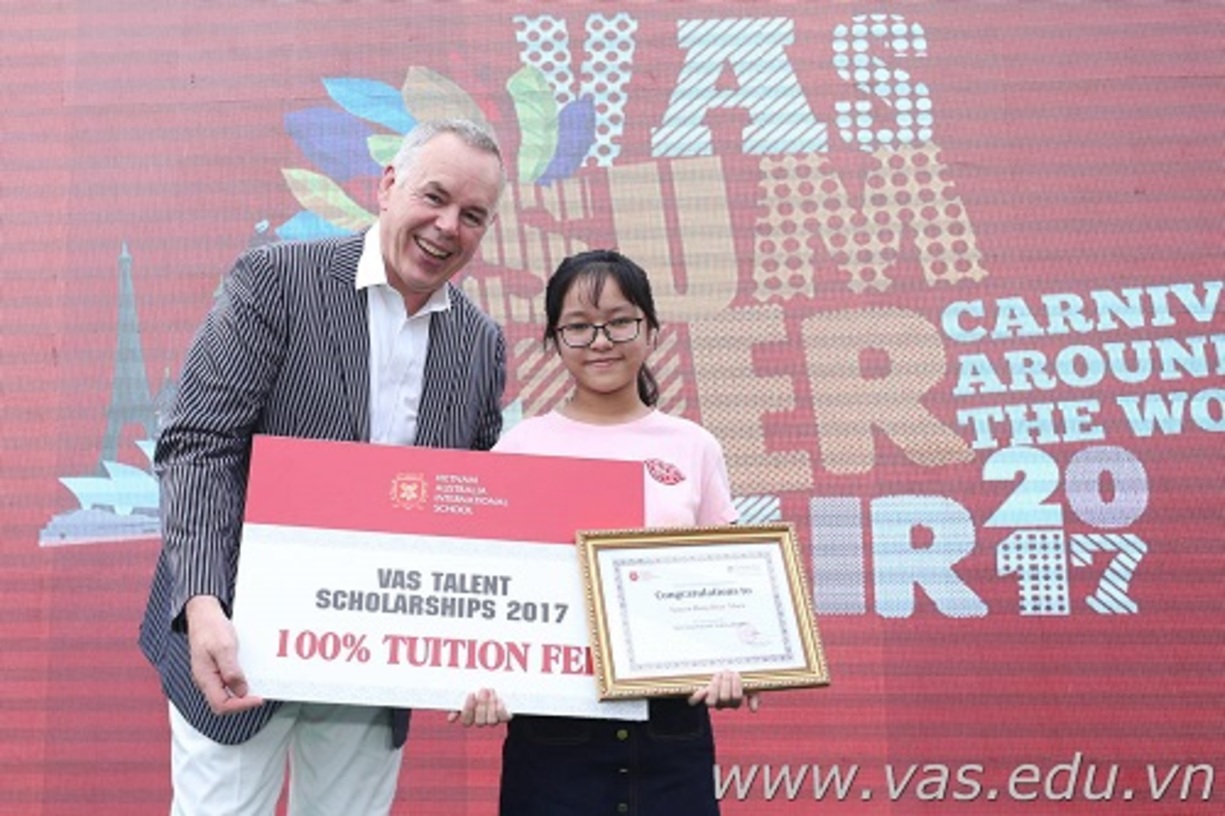 This is the second year VAS offers scholarships for non-VAS students, which is to encourage and allow excellent students to study in an international educational environment. After over half a year of many selection rounds including academic and extra curriclular achievements shortlisting, tests and essay writing, and face-to-face interview, Nguyen Dang Hoai Nhien has become the best candidate selected for Secondary School.
The scholarship was awarded to Hoai Nhien by VAS at the Summer Fair 2017. This Talent Scholarship covers 100% tuition fees, applicable to the student throughout the years of study at VAS! The total value of the scholarship is estimated at nearly 2 billion VND.
At the scholarship presentation, Mrs. Nguyen Thi Kieu Mai, Hoai Nhien's parents said, "I have been following VAS activities for many years and what impresses me the most is the school's extracurricular activities. They are so different from those held by public schools where Hoai Nhien used to study. This suits us so well because we pay lots of attention to soft skills and life skills which will support our children in the future. We believe that the skills and academic activities should be a 50-50 balance. And the direction of VAS is appropriate and VAS always keeps updated with the current trend of the society. This is why when Hoai Nhien is awarded this scholarship, our family feel honored and grateful, knowing that she will be studying in a dream school. We also believe that the most modern facilities and the school's training program will continue to develop and help her well-prepared for overseas study in the future."
For Hoai Nhien, she looks forward to developing her English, painting, and other skills when she studies with native teachers and at the same time experiences other extra-curricular and talent activities at VAS.
Once again, VAS would like to congratulate Hoai Nhien and her family! We wish you will continue to study well and maintain this scholarship in the years to come!